Carbon B... / 1 TON
Solid / Chemical Product
Date
28/09/2023 08:00
02/10/2023 17:00
From - To / Km
Yalova - Malatya / 1,070 km
metac / 25000 TON
Solid / Chemical Product
Date
26/05/2023 13:00
27/05/2023 19:00
From - To / Km
İstanbul - İstanbul / 84.0 km
Transpal... / 24 TON
Solid / Machine Product
Date
26/05/2023 10:08
26/05/2023 13:08
From - To / Km
İstanbul - İstanbul / 16.9 km
Kargo / 15 TON
Solid / Other
Date
12/04/2023 18:00
12/04/2023 23:30
From - To / Km
İstanbul - Ankara / 423 km
Kargo / 15 TON
Solid / Other
Date
11/04/2023 15:00
12/04/2023 01:00
From - To / Km
İstanbul - Ankara / 425 km
KARGO / 15 TON
Solid / Other
Date
31/03/2023 16:00
01/04/2023 22:00
From - To / Km
İstanbul - Düzce / 180 km
KARGO / 15 TON
Solid / Other
Date
31/03/2023 16:00
01/04/2023 22:00
From - To / Km
İstanbul - Muğla / 635 km
KARGO / 15 TON
Solid / Other
Date
31/03/2023 16:00
01/04/2023 20:00
From - To / Km
İstanbul - Denizli / 572 km
KARGO / 15 TON
Solid / Other
Date
31/03/2023 16:00
01/04/2023 19:00
From - To / Km
İstanbul - Kayseri / 758 km
KARGO / 15 TON
Solid / Other
Date
31/03/2023 16:00
01/04/2023 19:00
From - To / Km
İstanbul - Adana / 891 km
Solid / 12 KG
Lorry / Other
Load Availability Date
31/03/2032 01:00
From - To / Km
İzmir - Ankara / 590 km
Solid / 0 TON
Truck / Other
Load Availability Date
12/03/2031 23:12
From - To / Km
İstanbul - Duhok Governorate / 1.714 km
Solid / 0 TON
Truck / Other
Load Availability Date
12/03/2031 23:11
From - To / Km
İzmir - Ankara / 590 km
Solid / 0 TON
Truck / Other
Load Availability Date
12/02/2031 21:23
From - To / Km
İstanbul - İzmir / 482 km
Solid / 25 TON
Truck / Kapalı
Load Availability Date
27/10/2022 11:08
From - To / Km
Bursa - Yurtiçi / 0-3000 km
Solid / 25 TON
Truck / Other
Load Availability Date
18/10/2022 17:00
From - To / Km
Ankara - Yurtiçi / 0-3000 km
Solid / 25 TON
Truck / Kapalı
Load Availability Date
05/10/2022 20:18
From - To / Km
Trabzon - Yurtiçi / 0-3000 km
Solid / 25 TON
Truck / Kapalı
Load Availability Date
05/10/2022 19:48
From - To / Km
İstanbul - Yurtiçi / 0-3000 km
Solid / 0 TON
Truck / Other
Load Availability Date
05/10/2022 19:37
From - To / Km
Kars - Yurtiçi / 0-3000 km
Solid / 0 TON
Truck / Other
Load Availability Date
05/10/2022 12:02
From - To / Km
İstanbul - Yurtiçi / 0-3000 km
...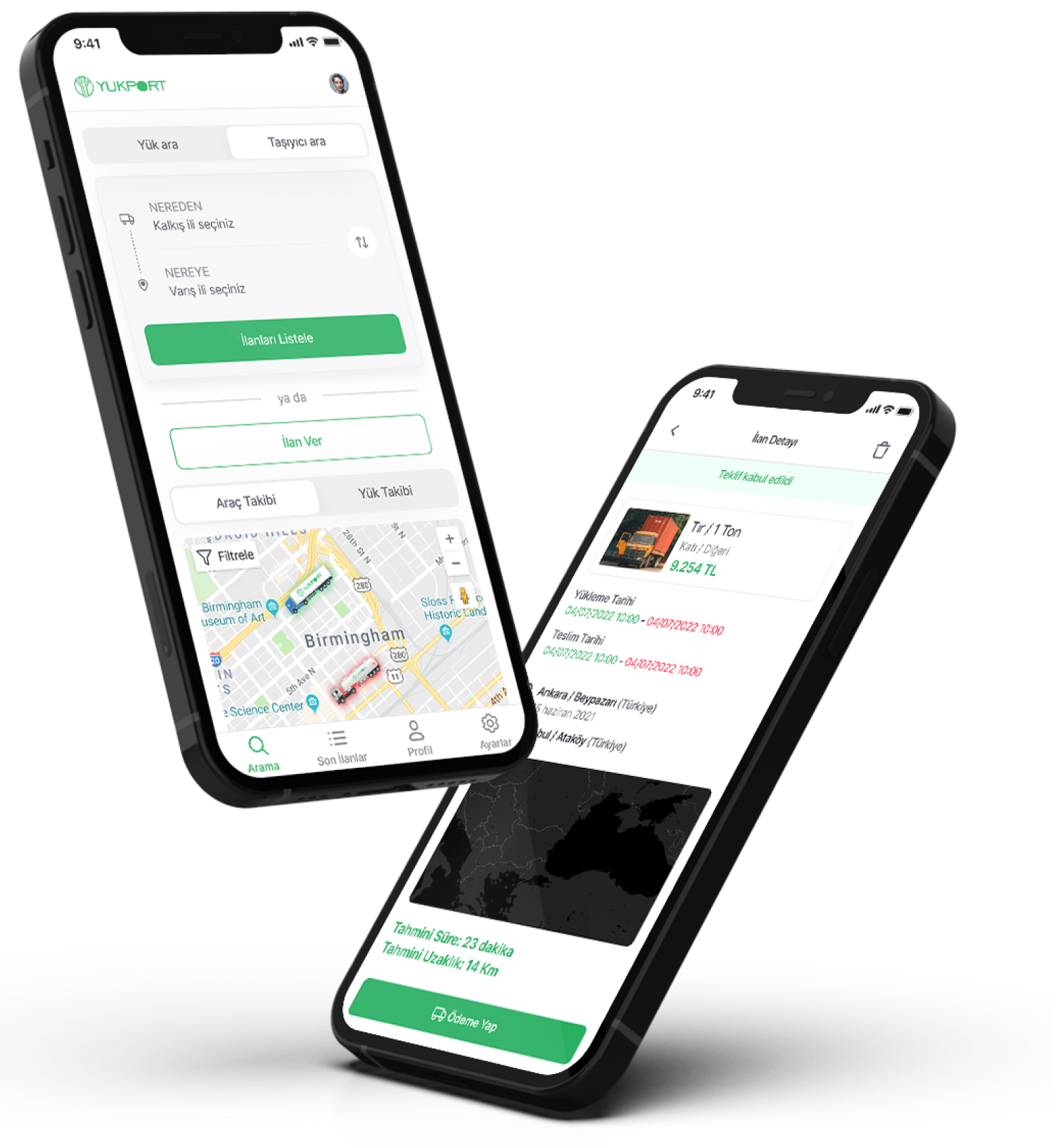 Sign up for free now
Enjoy the digital logistics platform
By downloading our mobile application, find a vehicle for your load and a load for your vehicle without wasting time. Increase your earnings by evaluating offers.

transport your load anytime and anywhere safely.
adopts win-win philosophy with bidirectional transport.